Throughout his career there was hardly ever a time when Macfadden did not operate at least one health home or sanitarium for the treatment of patients. These establishments provided opportunities for him to put his theories into practice and also for him to publicize the results as proof of the efficacy of his methods.
In 1900 he established his first health home in Hudson, New York, just 50 miles north of New York City. Within a few years he opened another home at Lake Ronkonkoma on Long Island.
When he opened Physical Culture City, Macfadden began building a facility to treat up to 100 patients. (See last month's newsletter for a photo of the building when it was near completion.)
In 1907, shortly before his conviction on obscenity charges, Macfadden leased a magnificent multi-story building in Battle Creek, Michigan, a community which had become the mecca for the natural health movement. This sanitarium could house 400 patients and competed very successfully with John Harvey Kellogg's famous sanitarium which was also in Battle Creek. It was here that the author, Upton Sinclair, came for treatrment and was thereafter a lifelong friend, supporter, and outspoken advocate for Macfadden's methods.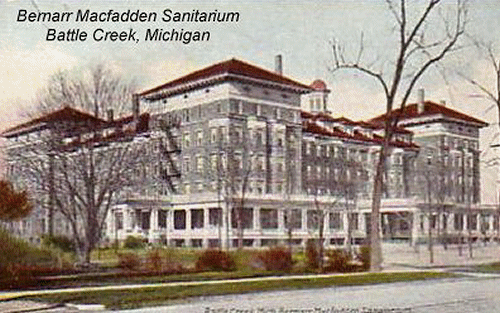 A magnificent building



The main portico



The porch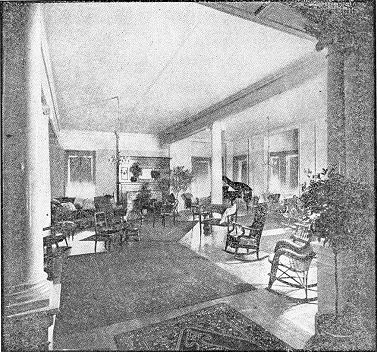 The parlor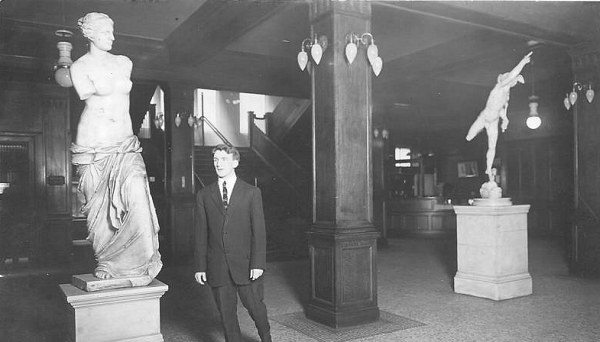 The main lobby - notice the beautiful woodwork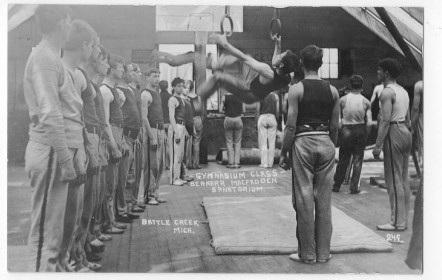 Men's gym class



In 1909 Macfadden closed the sanitarium in Battle Creek (he complained that the rent he was paying was far too high) and bought an even more spacious building in Chicago which had previously been the home of the Lakeside Club, a prominent jewish club. He named this establishment the Bernarr Macfadden Healthatorium. This building housed both a sanitarium and his training school. Although in 1911 Macfadden officially dropped formal connection with the Healthatorium to avoid legal entanglements, the Healthatorium continued to operate successfully under the supervision of Mrs. Susie Wood until 1924 when the building was sold to a black church. Later that same year the building was burned to the ground by an arsonist.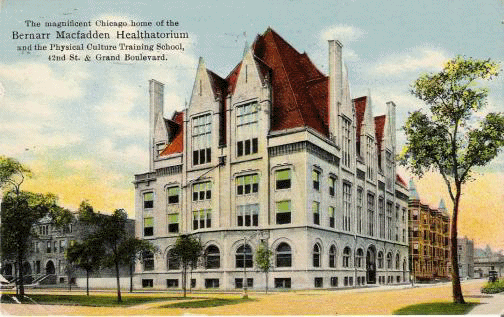 Another truly magnificent building

The reading room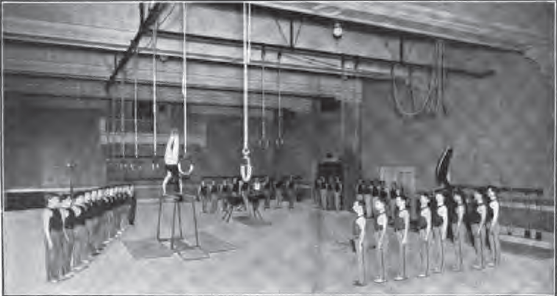 The gym - a large facility outfitted with state-of-the-art equipment




The 60-foot swimming pool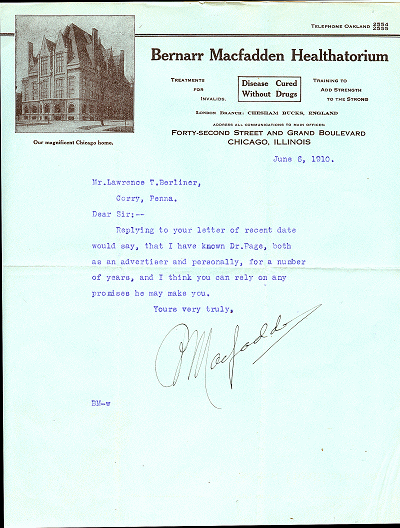 A letter signed by Macfadden on Healthatorium stationery
Notice the slogan, "Disease Cured Without Drugs"



During his long career Macfadden continued to operate numerous other treatment facilities both in the US and England (he once advocated setting up a health home near every major US city). However, it was really not until he purchased the Jackson Sanitarium (which he renamed the Physical Culture Hotel) in Dansville, NY in 1929 that he had an operation on as large a scale as either his sanitarium in Battle Creek or his Healthatorium in Chicago.




Karen's Portabella & Tomatoes over Zucchini Pasta
Recipe by Karen Bennett


This was a really easy dish to make. Measurements are not exact, but this is more or less how I made it
- simple and only used one appliance in addition to my knife:



INGREDIENTS


4 portabella mushrooms
2 large tomatoes
4 zucchini
1/4 Vidalia onion, sliced thinly and cut into smaller strips
a couple handfuls of pine nuts
8 - 10 fresh basil leaves, chopped (you can substitute 2 T dried basil, if necessary)



MARINADE


1/4 c organic first cold-pressed EVVO (not exactly raw)
1/8 c of Bragg's unpasteurized ACV
1/8 c of organic balsamic vinegar (not raw, but the I love the flavor -


(if anyone knows where I can get a raw version, please let me know)


a squirt of raw blue agave syrup To taste:
Nama Shoyu, or Celtic sea salt
fresh ground pepper
garlic powder
(probably very thinly sliced garlic cloves added to the marinade in the beginning would be even better,
but this is the way I made it the first time)



Here's what I did:


1 - Removed stem of mushrooms and brushed them clean w/ a mushroom brush (a
slightly damp paper towel can also be used.)
2 - Sliced mushrooms into 1/2 inch slices and then cut accross, making
cubes.
3 - Mixed marinade in 2-cup pyrex measuring cup
4 - Placed mushrooms & onion pieces in shallow dish and poured marinade over
5 - Stirred gently to coat mushrooms & onions, covered dish, and took a 30 min nap.
6 - Returned to kitchen, quartered tomatoes and, using the S blade, pulsed
them in food processor a few times
being careful not to cut them to small or turn them into sauce.
7 - Used spatula to remove tomato chunks and juices, adding them to mushroom
mixture.
8 - Stirred in raw pine nuts to mixture
9 - Using grater blade, processed 4 zucchini in food processor.
10 - Spread zucchini "noodle" on the bottom of an oblong baking dish (you
could do this on a large platter if
you're not going to transport it)
11 - Poured mushroom mixture over zucchini and gently spread to cover w/
spatula - you can add additional seasoning over all, at this point,
if you like or sprinkle additional pine nuts over top.