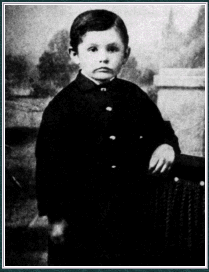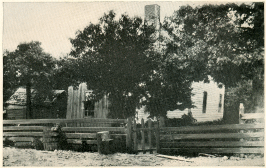 EARLY YEARS


The story of Bernarr Macfadden's early years is about a sickly and weak child, who was orphaned, overcame great adversity and gained superb health and amazing strength.
Born Bernard Adolphus McFadden on August 16, 1868 in Mill Spring, Missouri, his childhood was anything but easy. His father was an abusive alcoholic and his mother was a melancholy woman in very poor health. By the time he was just 11 years old, both his parents had died, he had no real family, had lived with one and then another uncaring relative, had spent a year in an orphanage, and was essentially on his own in a cruel and unloving world.
It Wouldn't Be Long Before He Died
He was a skinny and sickly child who was frequently ill and recovered slowly. When he was 7 or 8, he was vaccinated by a medically unsound method and almost died. This incident was the beginning of his distrust of doctors.
Once he overheard a relative say about him that he was so weak and unhealthy, it wouldn't be long before he died just like his mother had. This death notice caused a powerful emotional reaction within Macfadden. He was determined at that point to do whatever it took to become strong and healthy.
When he was 11, he was placed with a farmer who was looking for someone to do all his work. The boy quickly and proudly learned to do a man's portion of the labor. It was here, working outdoors doing all the jobs around the farm (including heavy work such as plowing, slaughtering pigs, and cutting down trees), that he began to grow strong and healthy. To him it was a miracle to see his body grow and become strong and healthy. He worked on the farm for two years.
After that he found work as an office boy and for two years advanced in office work. The problem was that he was losing the strength he had gained. By sixteen, he was starting to look and feel sickly again. He described himself as "a physical wreck" (see photo on right)
He preferred a job which required physical activity outdoors. He felt stifled working indoors; he felt like his muscles atrophied without strenuous activity out in the fresh air. All these experiences helped shape his ideas about health and fitness.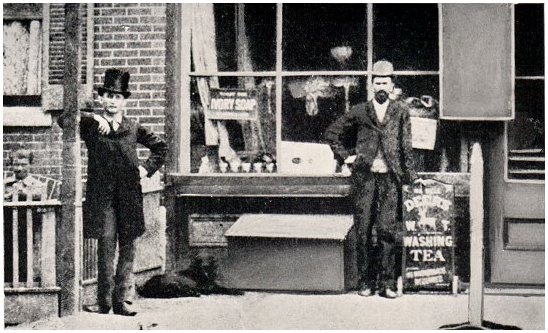 Macfadden on the left, working as a delivery boy for an uncle's grocery store
Notice the self-assured and even "cocky" pose!
Exercise and Natural Methods
He bought his first set of dumbbells and began a daily exercise routine which he continued all his life. Walking was one of his favorite forms of exercise, and he walked 3-6 miles each day. Early in life, he developed a strong aversion to tobacco and alcohol and all kinds of medications.
In order to improve his health and overcome a multitude of ailments, he tried natural methods on himself. He began to recognize that the body has the ability to heal itself if given the proper conditions. The experience he acquired in healing himself and from observations such as how animals do not eat when they are ill became the foundation of his philosophy of health.

He practiced a form of self-hypnosis. During exercise he actually spoke to his body as it it were a separate, reluctantly compliant entity, ordering it to obey his directives. He had a clear vision of the physique he wanted. Today, one of the ways that people achieve their goals is through four-dimensional visualization and meditation using art.

He was not tall - only 5ft - 6 and weighed around 145 lbs., but he developed powerful upper body muscles, a strong chest, and incredible stamina and energy. In addition to physical strength, he also developed a forceful and take-charge personality, unshakeable self-confidence, mental tenacity and determination. Those who met him for the first time were usually shocked to see how short he was. Because of his muscular appearance, he always looked taller in photographs than he actually was.
A Young Man With Ambition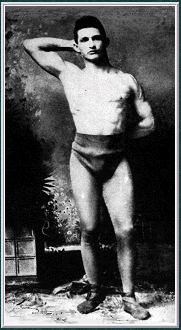 Still in his early teens, he was inspired after reading William Blaikie's How To Get Strong and How To Stay So. He began to work-out at a gymnasium and became a highly skilled gymnast. Within a couple years, under the tutelage of George Baptiste, a champion wrestler, he became quite an accomplished wrestler and defeated more than one heavyweight "favorite" in public matches. He was said to have been a real "crowd-pleaser." He obviously loved the adulation of the audience and began to develop a style of showmanship which would be his trademark for a lifetime. He loved to show off his muscles, and his skill at posing and flexing his muscles was truly an impressive sight.
For a while he lived in and around St. Louis and worked at various jobs including picking up and delivering laundry and working in a printing shop (where he learned the skills he would later use as a publisher of books and magazines.) We know that he spent considerable time in the public library reading about such subjects as fasting, whole foods, and drugless treatments. About 1887 he opened his first studio under the name "Bernard Mcfadden - Kinestherapist - Teacher of Higher Physical Culture." He was the first to use the word "kinestherapist." It was at this time that he coined the slogan which he would use all his life - "Weakness is a crime; don't be a criminal!"
He had a good amount of business, but had high goals and began to recognize that his lack of education (his schooling had been very sporadic) was a severe limitation in achieving his goal in life - to carry his message to the nation. In trying to get his writings published, he encountered nothing but rejection because of his poor grammar and spelling.
Thus, in 1889, he began to work as a trainer and coach at a military academy in Bunker Hill, Illinois in exchange for his tuition to attend classes. He coached football and wrestling, was the most popular member of the staff and had winning records. It was at this time that he made his first attempt at writing a book - an 80,000 word novel titled "The Athlete's Conquest," which he was successful in getting published. The book is interesting if only because the main character, Harry Moore, is autobiographical and gives us insight into Macfadden's mind. (Note: a free version of this book will be available on this site soon.) All his students bought his book.
In addition to coaching, attending classes and writing, he found time to promote boxing and wrestling matches. It was during this time that he began to solidify many of his ideas about health and diet. His therapies included specialized diets, fasts, exercises, hydro-therapy and a system of massage and manipulation not unlike chiropractic manipulation.

Macfadden in Classical Poses - 1893
In 1893, he visited the Chicago World's Fair. A friend of his was selling an exercise apparatus at a booth on the midway. The friend knew that Bernarr was the kind of person that could attract a crowd so he gave him a job demonstrating how the exerciser worked. Macfadden sold a lot of the exercisers. While at the fair, Macfadden had the opportunity to see the renowned strongman, Sandow, perform. Macfadden was very impressed by the way that the lighting and staging accentuated Sandow's incredible physique. Also at the fair, he saw examples of classical sculpture and was impressed with the way the human body was idealized. Later in his writing, he frequently referred to the way the body was portrayed in classical sculpture and painting.
Bernard Becomes Bernarr
In 1894, at age 26, he arrived in New York City with only $50 in his pocket and rented 2 rooms, one of which was a studio. He plastered the city with advertisements and in a short time had a good clientel of people who paid him as their personal trainer and physical therapist. It was during this time that he changed his first name to Bernarr (because it sounded like a lion's roar - much stronger than "Bernard") and also changed the spelling of his last name (because Macfadden was more distinctive than McFadden). Besides conducting classes, he sold an improved exerciser which he had designed (CLICK HERE to see a description of this exerciser), competed as a wrestler, taught wrestling, and also began to publish his own pamphlets and booklets on health and physical training.

During this time he began to lose his hair and his eyesight was becoming weak. He successfully reversed both of these degenerative processes and wrote books on both subjects. For the rest of his life, he had a full head of long hair and still had 20-20 vision well into his sixties.
In an effort to find a bigger market for his products, he toured England and for two years (1897-1898) lectured and gave performances imitating the poses of subjects from classical art - posing with special lighting, against a black backdrop, the way that he had seen Sandow pose. At this time, England was ahead of the US in the public's interest in bodybuilding and fitness. Indeed, the new interest began in Europe and England.
He was successful in finding a company to manufacture his new exerciser. He sold the exerciser and some literature. It was during this tour that people began to ask if they could purchase subscriptions to a physical culture magazine.

INTRODUCTION || WEAKNESS - A CRIME || PERFECT WOMAN - PERFECT FAMILY || A PUBLISHING EMPIRE || HEALTH CRUSADER || FAME - FORTUNE - FOLLY - FAILURE || FINAL YEARS || RESOURCES-LINKS-MACFADDEN STUFF

PLEASE FOLLOW ME ON SOCIAL MEDIA


Learn 4-Dimensional meditation Using Art



Muscles, Sex, Money, & Fame
A spectacular pictorial biography of the amazing life of Bernarr Macfadden. With over 300 vintage photographs and illustrations. The most comprehensive collection of photos about Macafadden ever published in print!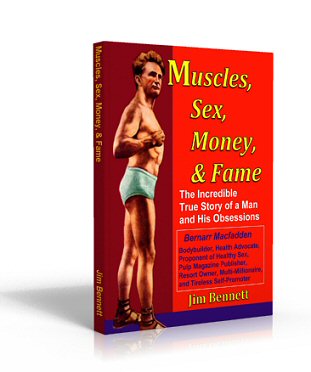 CLICK HERE TO READ MORE
---

Copyright © Jim Bennett


Visit my other sites:
StudioArts.Net | RiverFlow.Com | MathSquad.Com