The New York Evening Graphic was a tabloid. It published its first issue in September of 1924.
It shut down in 1932, at the height of the Great Depression, and after
Macfadden had lost over 10 million dollars on the venture.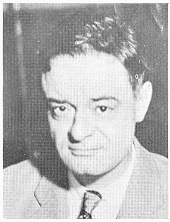 Emile Gauvreau, a brilliant non-conformist,
was the first managing editor. Under
Gauvreau's leadership, the newspaper
quickly made a name for itself among the
New York City public. Gauvreau quit
after 5 years when strict cost-cutting
measures were put in place.
---
The editorial page of the first issue - The Graphic leads the way - The people's crusader!
(Unfortunately, there is only a severely deteriorated remnant of this original page.)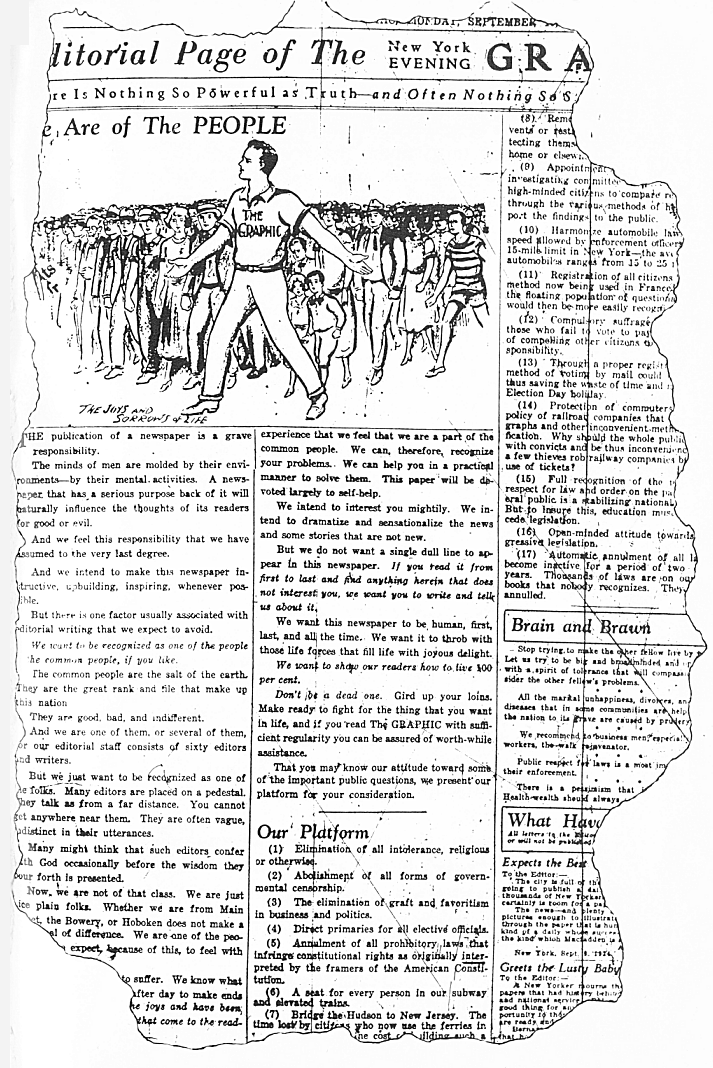 When Macfadden originally thought of the idea for this newsapaper, he was going to call it "Truth."
The paper was famous for two things: composographs which were nothing more than faked photos, and contests.
There was some sort of contest running in every issue. Lester Cohen was the contest editor, and he wrote a book
about the Graphic titled
The World's Zaniest Newspaper
.
---
One of the scandalous stories that the Graphic capitalized on was the divorce case of "Daddy" Browning, a
rich grandfatherly type, and his much younger bride "Peaches." This was a favorite subject for the composographers.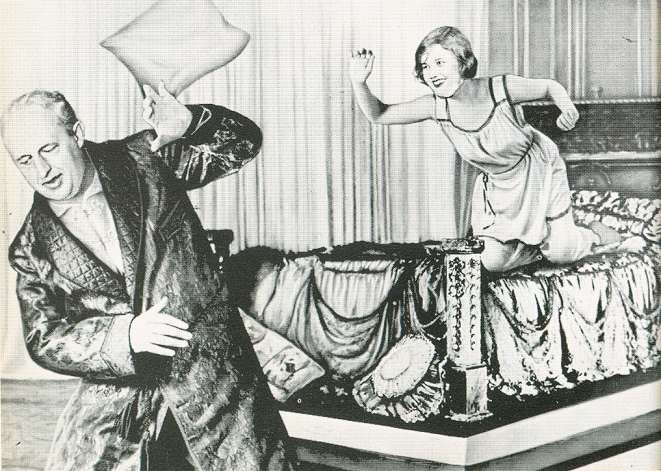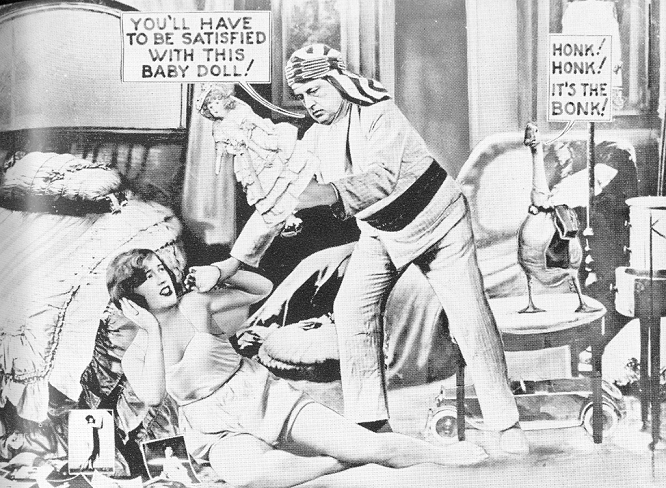 The composograph above shows Daddy Browning giving Peaches a doll baby, while (according to her
divorce trial testimony) Daddy kept a pet goose in their bedroom.
---
Headlines in the Graphic exemplified the worst of lurid sensationalism.
Macfadden gave orders that the paper would not blandly report the news but
would "editorialize the news." He wanted every story to teach a moral lesson.
Macfadden had the idea that the Graphic would be the daily newspaper
counterpart to True Story magazine. Gauvreau did not follow his boss's edict
strictly, but he did make the paper famous.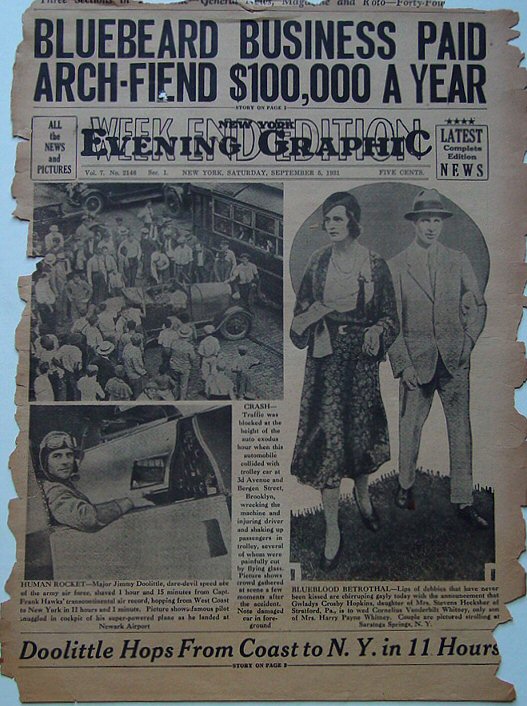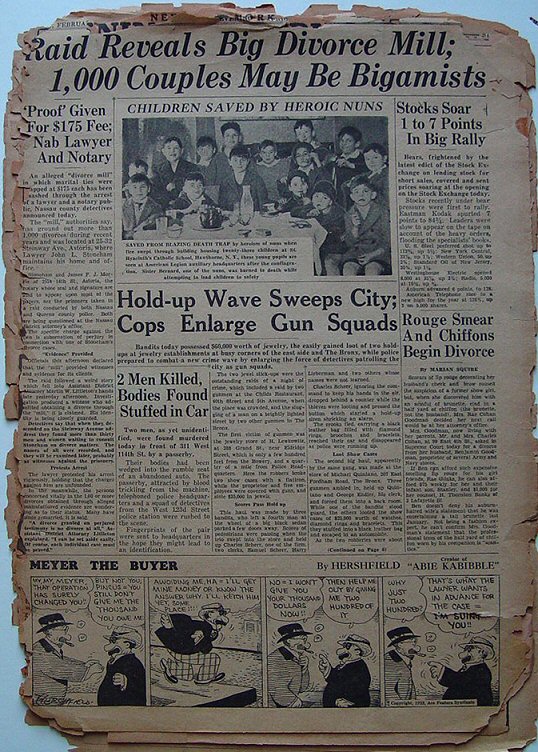 Another seensationalized story together with a comic strip at the bottom of the page.
This was a fairly standard layout for this newspaper.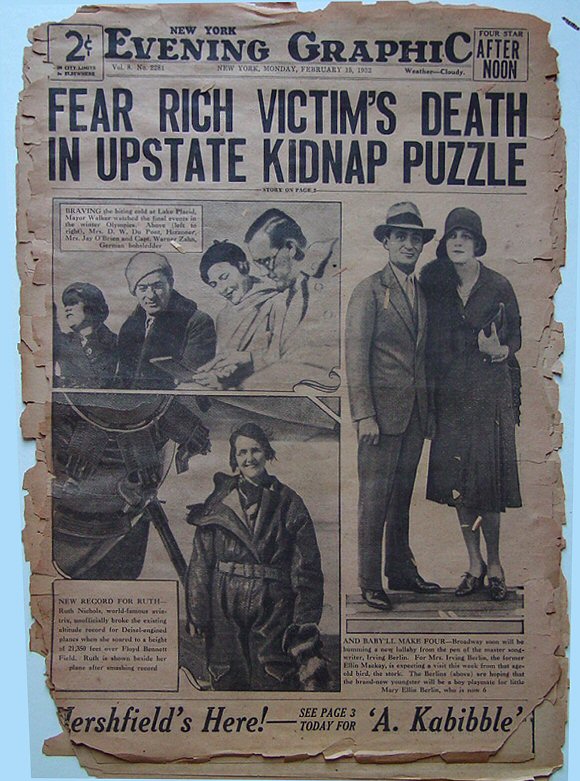 A call to repeal prohibition - as a matter of personal freedom and good economic sense.
Examples of the famous salmon pink paper.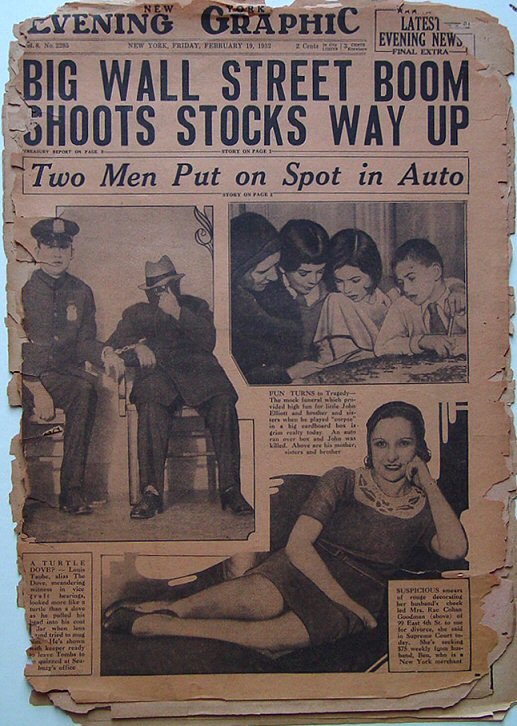 Two popular columns: Ed Sullivan's "Sport Whirl" and Walter Winchell's unique view of the theater.
The Graphic launched their careers. Sullivan went on to become the host of an extremely popular
TV variety show of the 50's and early 60's. Winchell went on to become a famous columnist and radio reporter.
CLOSE TO RETURN